Social Issues
Growing number of aging condominiums
●Increasing vacancy rates
●Changing preferences, away from the dated and rundown (Floor plan changes)
Changing lifestyles and living environment references
●Growing number of elderly residents
●From family to single-resident living
(Growing number of single-occupant households)
Environmental issues
●Energy problems
●Disasters
Solutions marketed by the Daikyo Group
Examples of Daikyo Group's initiatives
Renovations (revitalizing residences)
The stock of condominiums in Japan exceeds six million units, and it has become important to enhance the quality of aging properties. Daikyo responded to this situation by launching the Renoα brand of renovated condominiums to fully enter the residential revitalization business. We renovated more than 1,000 units in fiscal 2014.
Serviced housing for senior citizens
More than 40 years have passed since Daikyo began condominium development. We believe that we ought to propose ways whereby the growing number of aging residents can live comfortably in their later years. In 2014, we accordingly began providing serviced housing for the elderly. We plan to operate about 60 such buildings over the next 10 years.
Vacation rentals (ensuring effective use of vacant properties)
Daikyo started its original vacation rental business in Okinawa in January 2015 to contribute to more effective use of properties by reducing the number of condominium vacancies, under our concept of "the light always shines from the windows." Also, by 2020 we plan to have 300 units occupied during periods when second-house owners are not using them.
We look to ultimately expand these operations beyond Okinawa.
Redevelopment
We have a strong track record in regional redevelopment initiatives around Japan, and believe these to be important for the revitalization of regions beyond the nation's three largest cities.
Reconstruction
Reconstruction is an effective way to rejuvenate condominiums that have deteriorated over the years. Daikyo has amassed a diversity of knowledge as a group and established a solid support system. Deploying these assets, we can help give shape to the dreams of residents as a trustworthy partner in condominium rejuvenation.
Regional and environmental coexistence
Regional coexistence
When developing condominiums and other large-scale building projects that have an impact on surrounding communities, our policy, in addition to legal compliance, is to explain and gain an understanding about various factors. These include the concept of each project and how we take the local community into consideration. We will incorporate knowledge accumulated to date—in such areas as protection of existing trees, securement of green areas, and installation of disaster prevention equipment—into our condominium projects.
Lions Yokohama Arena Hill in Yokohama City of Kanagawa Prefecture
We received a letter of appreciation from a local residents' association for taking the local environment, crime prevention, traffic measures, and other factors into consideration in our development project.
Environmental coexistence
"Environmentally symbiotic housing," implemented and accredited by the Institute for Building Environment and Energy Conservation (IBEC), is a system that calls for companies to meet necessary conditions, proposed development type and other high standards. In 2001, Daikyo received accreditation for "Green Tierra Hoshigaoka" (in Kanagawa prefecture; joint business with Fuso Lexel), and in 2002 for "Forest Lake Hibarigaoka." In each case, it was the first time for a private-sector developer to undertake a joint residential project involving supply of both individual housing and condominium buildings. In 2003, our "Lions Tower Tsukishima" was the first super high-rise condominium building to receive accreditation. And in 2011, our "Pioneering efforts toward a low-carbon society in collective housing" received a performance award from the Japan Association for Real Estate Sciences (JARES).
Forest Lake Hibarigaoka in Nishitokyo City of Tokyo
A mainly low-rise condominium project in which buildings are arranged around ponds and greenery. Rainwater is recycled, and even people living outside of the site can pass through it.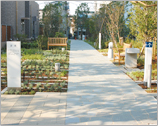 Lions Tower Tsukishima in the Chuo district of Tokyo
Open spaces comprise 63% of the site, in which alleyways serve as an extension of the surrounding cityscape. With rooftop greenery and planting of around 13,600 trees, we have created a forest within a city.
Community
The Daikyo Group conducts events to reinforce connections between residents and also takes part in community events.
Planning and deploying architectural designs that incorporate green energy
In keeping with its aim of creating environment friendly housing, Daikyo employs construction techniques that adopt solar, wind, and other energy sources to make interiors more comfortable. We started fully employing this approach from 2009, deploying energy-saving facilities to reduce summer electricity charges for air-conditioning by 30% and lowering indoor temperatures an average of 4.9°C during July.
Building disaster prevention awareness
The Daikyo Group has leveraged its more than 40 years of experience as a provider of housing to undertake Groupwide efforts to provide restoration support following a major disaster.
We engage in various initiatives to help ensure resident safety, distributing disaster manuals to management associations and conducting disaster drills.